Election of the CERN Staff Association Committee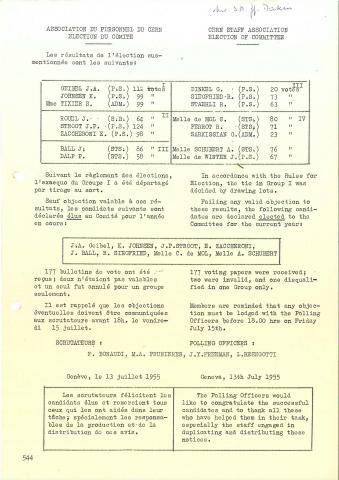 Voting for the Committee members of CERN's newly formed Staff Association closed at midnight on 11 July 1955; Messrs J.A. Giebel, K. Johnson, J. P. Stroot, E. Zaccheroni, J. Ball, R. Siegfried, Miss C. de Mol and Miss A. Schubert were duly elected, with 177 votes cast.
On 21 July the Chairman, Mr A. Sarazin, requested formal recognition of the Association as sole representative of CERN's personnel. Cornelis Bakker, who was just taking over from Felix Bloch as Director-General, was happy to grant this, with the proviso that that staff could still approach him directly if they so wished. At this time, not all CERN staff were based in Geneva and he suggested that that those in Copenhagen, Uppsala and Liverpool should also be represented by the Association. The next step was a series of meetings between management and the Association, and the creation of a consultative committee. You can read some of the relevant letters here.