Signing the CERN Convention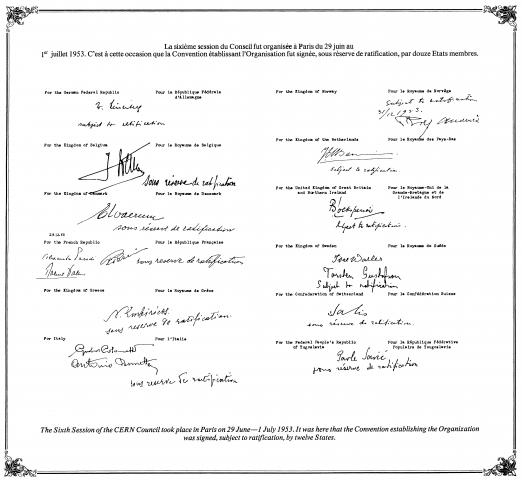 After long months of negotiation - success! The work of the provisional Council responsible for planning the new international laboratory for nuclear physics reached a successful conclusion on 1 July 1953 with the signature of the CERN Convention.
The drafting committee and the administrative and financial working group had worked at UNESCO House throughout the week leading up the Council's sixth meeting in Paris (29-30 June) to finalize the document, and signature took place the next day at a conference held at the Ministry of Foreign Affairs. Delegates of nine countries signed, with the remaining three expressing their intention to do so shortly.
The convention was gradually ratified by the 12 founding member states (Belgium, Denmark, France, the Federal Republic of Germany, Greece, Italy, the Netherlands, Norway, Sweden, Switzerland, the United Kingdom, and Yugoslavia) and the European Organization for Nuclear Research officially came into being on 29 September 1954. The text of the Convention is available here.